Following up and following on - making the most of every conversation
27 Nov 2018
Venue: Roffey Park, Forest Road HORSHAM RH12 4TB

Date: 27th November 2018

Time: 9.30am-12.30pm

Presenter: Stefan Thomas, author of Business Networking for Dummies
Every big opportunity starts with a little conversation, but some of those big opportunities might need time to mature.
What if the buyer you've met loved what you had to say, but just doesn't need your services right now. In this interactive seminar, Stefan Thomas, author of Business Networking for Dummies, explains how to make sure you are there, in the right place, at the right time, when the buyer is ready to buy.
Continuing the conversation through social media, Emails, LinkedIn and phone calls, Stefan will show you how to make it easy for them to buy, when they're ready to do so.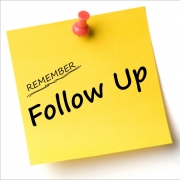 TO BOOK YOUR PLACE PLEASE BOOK THROUGH EVENTBRITE 
OR CALL 01293 813889